Mexican Tomato Rice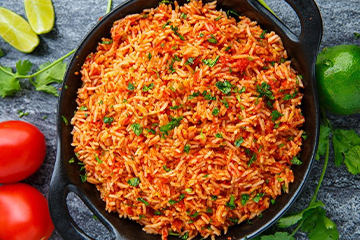 Ingredients
1 tbsp any kind of oil

2 tomatoes

2 cloves of garlic cut in slice

1/2 onion chopped in cube

1 cup of long grain rice denpends the portion you are preparing

1 tbsp cumin

1 tbsp Mexican oregano

1 cup tomato sauce

1.5 cup water

Some coriander


Instructions
1. Heat 1 tablespoon of oil over medium-high heat then add onions and sizzle for 5 minutes.

2. Add the garlic and stir fry for 1 minute then add rice and cumin.

3. Continue frying until rice is golden brown and nutty.

4. In anothe pan, add fresh tomato and water cook until the tomato is soft.

5. Add the tomato you just cooked, tomato sauce and oregano into the rice. Then stir fry for 10 minutes until the rice is cooked through.

6. Put some coriander on the top and serve hot.


Other recipes that you may have interest