Creamy Chicken Pasta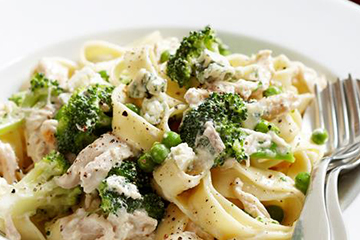 Ingredients
200 g pasta

2 tbsp olive oil

4 garlic cloves minced

2 chicken thighs cubed

1/2 cup white wine

1 cup cream

50 g parmesan or any type of cheese you like

1 tbsp freshly ground pepper


Instructions
1. Bring a large pot, boil some water and add some salt in it.

2. Cook your pasta according to package directions. (Depends you like your pasta al dente or fully cooked).

3. Heat the olive oil in a pan (medium heat ) for 2-3 minutes then add the garlic.

4. Add the chicken and fried a little bit.

5. Put the white wine in. Bring the heat up to medium high and cook until the wine is reduced by half.

6. Add the cream. Cook for around 3 minutes or till the cream is glossy.

7. Reduce heat to low then add cheese and black pepper. Whisk until cheese is melted. Taste and add salt as needed.

8. Drain the pasta and add to the pan. Mix them well with the sauce 9. Serve with extra grated cheese on top.


Other recipes that you may have interest