Grilled cod fillets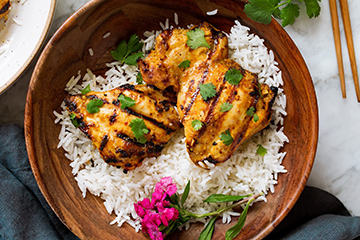 Ingredients
4 Ounce Cod Fillets

1/4 cup Butter

1/2 Lemon

1 Small Onion, Finely Chopped

1 Small Cilantro

1/4 Cup White Wine

2 tbsp Olive Oil

1/2 tbsp Sea Salt

1/2 tbsp Ground Black Pepper

1/2 tbsp Paprika


Instructions
1. Preheat the oven to 450°F.

2. Rinse the cod under cool water. If using frozen cod, removing any ice crystals to defrost completely.

3. Mix melted butter, salt, black pepper, paprika and lemon juice.

4. Put the cod in to be marianted.

5. Prepare foil packets, and brush both sides of the butter.

6. Put the cod into the oven and grill for 20 minutes.

7. While the cod is in the oven, prepare the sauce: pulse the cilantro and garlic in a food processor

8. Add the lemon juice, olive oil, and spices into the sauce.

9. When the cod is done, served with the sauce you just made!


Other recipes that you may have interest