Zucchini Pizza Boats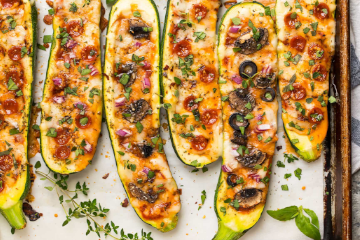 Ingredients
3 medium Zucchini

1 tbsp Olive Oil

2 tbsp Basil, fresh (chopped)

1 tbsp Salt and ground black pepper

1 cup Cherry Tomatoes (sliced)

1 cup Mushroms

1/2 cup Kalamata olives (chopped)

1 cup Marinara pizza sauce (or pizza sauce)

1/4 cup Onion and garlic (minced)

1/2 cup Pepperoni slices

different kind of cheese(mozzarella, parmensan)


Instructions
1. Pick zucchini that are similar in size and in the meanwhile, preheat the oven to 400°F.

2. Cut the zucchini in half and use a small spoon to scrape out the inside parts.

3. Place zucchini on a baking tray and fill them with pizza sauce.

4. Sprinkle with salt and black pepper

5. Top with onions, garlic, olives, pepperoni, tomatoes, cheese.

6. Bake for around 20 minutes, until zucchini is tender.

7. Top with basil and serve.


Other recipes that you may have interest