Thai Coconut Grilled Chicken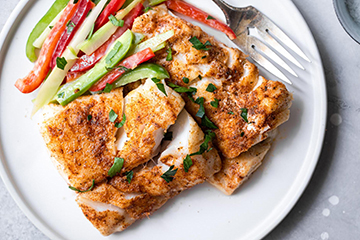 Ingredients
4 Boneless Chicken Thighs

1 can of Coconut Water

2 tbsp Lemon Juice

1 tbsp Sriracha

1 tbsp Cumin

1 tbsp Granulated Sugar

2 tbsp Olive Oil

1 Small Garlic

1 tbsp Sea Salt

1 Cinnamon Stick

1 Small Bunch of Coriander


Instructions
1. In a large mixing bowl whisk together coconut water, lemon juice, granulated sugar, olive oil, coriander, cumin, garlic and sea salt

2. Put the chicken thighs to be marinated

3. Cover the bowl with one thin layer of plastic wrap

4. Transfer to fridge and let marinate for 20 – 60 minutes.

5. Preheat the oven to 450°F.

6. Put the chicken into the oven and grill for 30 minutes or until it's fully cooked.


Other recipes that you may have interest